Competitive tournament structure​
We are proud to announce that GameScoreKeeper, will be bringing our full suite of Esports API data on to various blockchains via the launch of our own Chainlink oracle node. Not only will running a Chainlink allow us to post data on the leading blockchains relating to nearly all CS:GO, League of Legends, and Dota2 matches, but we can cryptographically sign that data as a means of proving that it came directly from our APIs. This provides additional reliability to our already high-quality data, allowing it to be used to automate the exchange of real economic value between players.
Through our Chainlink node, we can sell signed data directly to a new wave of decentralized applications for Esports, expanding our addressable market as a data provider and growing the Esports industry as a whole. We already envision a multitude of applications soon possible via access to our data, such as prediction markets based on player performance, peer-to-peer bets contingent on head-to-head battles, generation of unique Non-Fungible Tokens (NFTs) when special achievements are unlocked, and much more.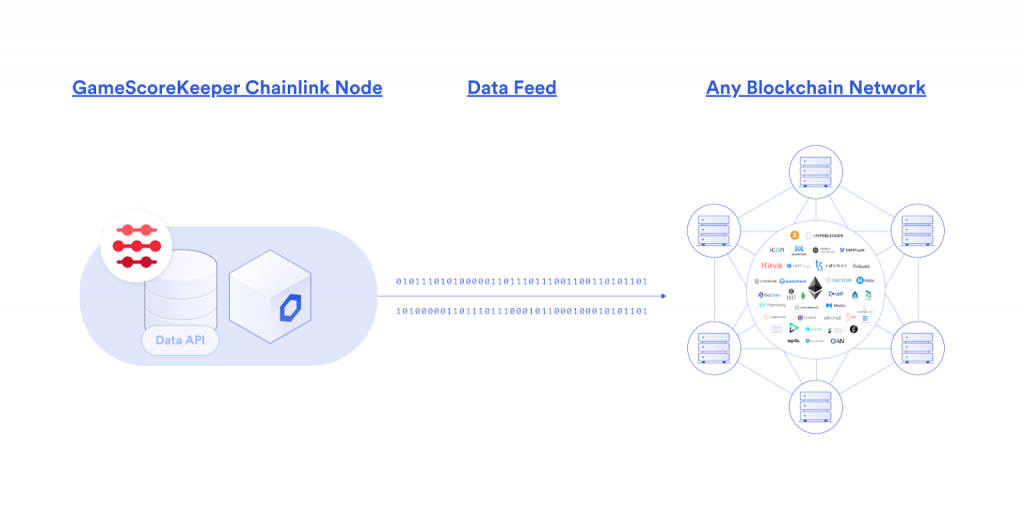 "We're excited to use Chainlink to actively participate in seeding the next generation of Esports by providing blockchain developers with signed match data to support new decentralized applications," said Felix Klastrup, Founder and CEO of GameScoreKeeper. "Not only will it allow us to grow our revenue as a data provider, but we can provide Esports fans with more advanced ways of monetizing their gameplay and speculating on outcomes."
With extensive coverage of the three biggest esports, CS: GO, League of Legends, and Dota2, our data  accounts for more than 85% of the total esports viewership and 90-95% of revenue in esports. Every year, we cover more than 1,175 tournaments and more than 30,000 matches, and we roll out coverage on new leagues and tournaments every month. Whether you want data about K/D ratios, number of headshots, round winners or number of kills by specific players, or more, everything can be accessed through GameScorekeeper's API. We are also happy to add new game-titles on request to bring cutting edge products to our customers. .
Blockchain-based smart contracts are proving valuable as new infrastructure for creating decentralized markets where users can bet on, play against one another, and generate unique in-game items with monetary value without counterparty risk or a trusted set of developers/game operators. These peer-to-peer gaming applications and marketplaces rely on data to determine the outcome of events, and thus trigger the exchange of economic value between players. GameScoreKeeper aims to tap into these new markets by supplying high-quality API data on to all the leading blockchains through Chainlink.
Since smart contracts cannot natively make API calls to external systems, we require a blockchain oracle to bridge the gap between blockchain-based smart contracts and our off-chain APIs. Oracles are middleware that retrieve external data on behalf of the smart contract, attest to its accuracy (through digital signatures), aggregate it (when using multiple sources/nodes), and broadcast it onto the blockchain so smart contracts can use the data in their execution.
Being the most widely adopted blockchain oracle solution in the market and the most utilized gateway for which data providers to bridge their APIs on-chain, Chainlink was the logical choice for us in order to branch out into blockchain markets. Some of the key features available as a node on the Chainlink Network, which we did not find on other oracle solutions, include:
 Signed Data – Chainlink nodes cryptographically sign every piece of data transferred between systems, allowing us to provide blockchain applications with proof that data came straight from our API. 
Sell to Any Blockchain – Chainlink nodes are blockchain-agnostic, meaning it serves as a single gateway from which we can sell to all blockchains both now and in the future.
Large Market of Users – the Chainlink Network is the most widely used oracle solution in the blockchain ecosystem, presenting us with a large market of potential users already familiar with Chainlink.
Proven Security – Chainlink is thoroughly audited open-source software actively securing billions of dollars in value for live applications, proving its ability to protect and trigger the movement of financial assets on behalf of users.
About the Chainlink Network:
Chainlink is the most widely used and secure way to power universal smart contracts. With Chainlink, developers can connect any blockchain with high-quality data sources from other blockchains as well as real-world data. Managed by a global, decentralized community of hundreds of thousands of people, Chainlink is introducing a fairer model for contracts. Its network currently secures billions of dollars in value for smart contracts across the decentralized finance (DeFi), insurance and gaming ecosystems, among others.
Chainlink is trusted by hundreds of organizations to deliver definitive truth via secure, reliable data feeds. To learn more, visit chain.link, subscribe to the Chainlink newsletter, and follow @chainlink on Twitter.
Docs | Discord | Reddit | YouTube | Telegram | Events | GitHub | Price Feeds | DeFi | VRF
About GameScoreKeeper:
This need for data, is the foundation that GameScorekeeper is built on. GameScorekeeper was founded in early 2016 with a vision of bringing fast, reliable and accurate esports data to all applications of the esports world – whether it be mobile live scores, deep match analysis, media content or online betting.
Today GameScorekeeper delivers esports data and content solutions to some of the leading players in the esports market. Our clients range from betting operators to media companies and fantasy leagues.