VALORANT data now available ​
We are excited to announce we have now added the highly successful game title, VALORANT from Riot Games, to our Scheduling and Resulting data service.
The is the first of many new games we intend to add to our data services portfolio in Q1 2021.
VALORANT has been hugely popular right from when it was first released in beta and it looks to be a big hitter in professional esports. 
In this article we will take you through the background, successes and what the future has in store for VALORANT. 
VALORANT was developed and published by Riot Games and officially released in June 2020 after a whopping six years in development. 
For many gamers, VALORANT will at first glance, be able to draw many parallels to both CS:GO and Overwatch. A first-person-shooter game that pitches two five a side teams against each other. 
The format is quite simple – and incredibly entertaining. Your team must either attack – you do this by planting a "spike" that the other team must try to defuse, or completely prevent them from planting the bomb in the first place. If the defending team defuses the bomb, they have won the round. 
Just like in CS:GO, both teams can also win the round by eliminating all opponents. 
Each team of five gets to play as both attackers and defenders during a game. Each match has 25 rounds in total, with the first team to win 13 rounds being declared the  victor. 
VALORANT has attracted massive interest already​
When Valorant was launched back in June 2020, it attracted record-breaking attention. In ONE single day, more than 34 million hours were viewed by spectators, and streaming on Twitch was at its peak. According to Riot Games, it reached an impressive 1.7 million viewers. 
During beta testing earlier in 2020, an average of 3 million players logged on to the game per day. Riot Games had great success exposing VALORANT through closed beta streams via Twitch and AfreeTV using various influencers. It was so successful, that more than 470 million hours were viewed across the two streaming platforms.
VALORANT Champions Tour explained​
Credit: Riot Games

The VALORANT Champions Tour will feature three levels of competition:
Challengers – Masters – Champions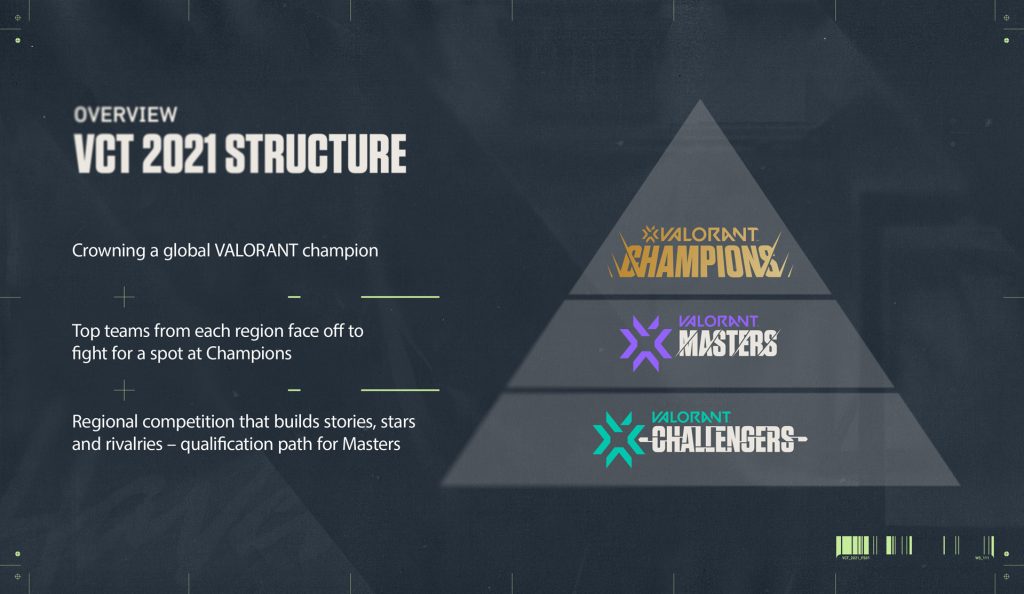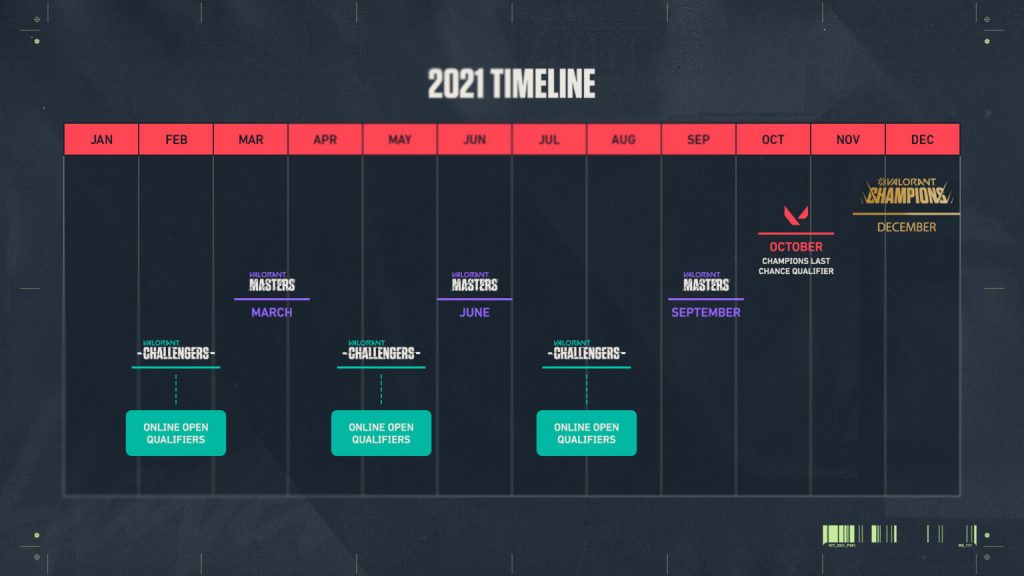 The competition will be divided into seven regions, similar to how League of Legends works, but with a much smaller number of regions at the beginning:
North America (Includes Oceania)
Europe, Middle East and Africa (Includes CIS, Turkey and MENA)
Brazil
Latin America
Japan
South-East Asia
Korea
Challengers in all regions, followed by VALORANT Masters tournaments in March 2021. The same cycle will repeat during May and June and the last cycle will be throughout the summer. 
This will enable players to have enough time to rest between competitions to avoid burnouts.
In October, the final shot to make it to Champions will be through a smaller qualification tournament. When the final 16 teams are found, they all going to be a part of VALORANT Champions kick off in December.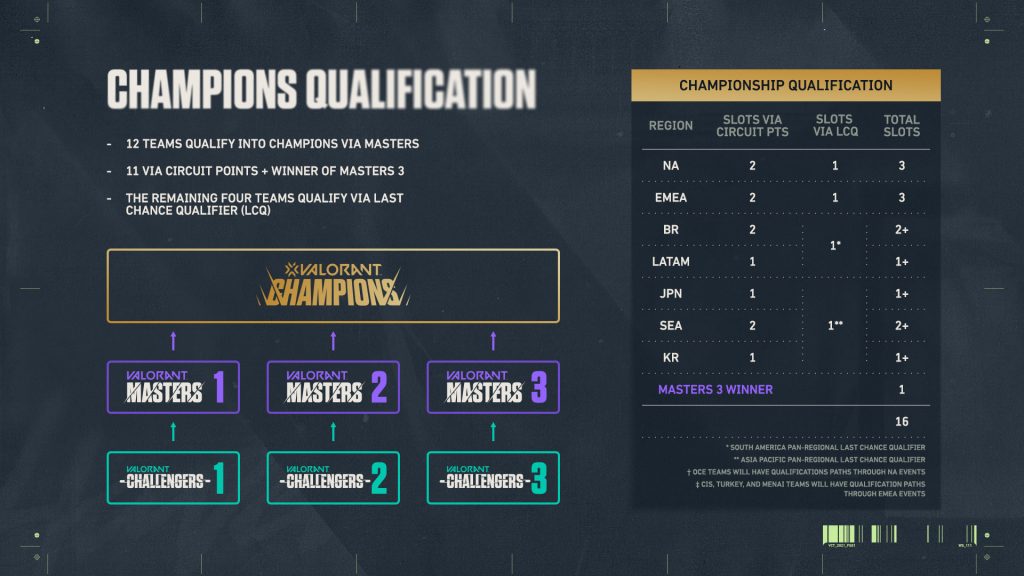 After a long and intense season with ups and downs, the season ends with an epic finale event to crown the world's best VALORANT team in VALORANT Champions 2021. 
This is the opportunity for the top 16 teams across all regions to compete for the title to become world champions. Let the games begin!
Why will VALORANT be a big success
With the huge success of League of Legends, Riot can easily markets its new games to its existing fan base. Adding VALORANT as a part of your esports offering, would be an opportunity to tap into this massive audience.
Riot has achieved credibility with League of Legends, they are much likely to prove non-endemic brands to enter VALORANT. This increasing interest will definitely help to pave the way for building a strong and big community of engaged esports fans.
Sports betting websites should really pay attention. With a professional and structured tournament format organised by Riot, VALORANT could be the next big esports title for punters. Being very recognisable to CS:GO, VALORANT makes it easy to place bets for both experienced and new punters. Being a first-mover in the betting space gives you a great advantage to attract a new audience.
Riots' success with League of Legends essentially leads back to three major focuses; having an international player-base from around the globe, working very close with a bunch of content creators and influencers to promote the game and its IP, and the viability and rising popularity of esports in general.
"Riot did a fantastic job at creating additional hype for Valorant. As one of the biggest names in esports, all eyeballs were on them to produce something special. Personally, I think there is a positive future ahead for the Valorant scene, there are some great casters, content creators and yes, some players who have come over from CS and they have brought their fans and followers with them. It is still too early to compare the landscape to be in a position to rival the tournament structures, rivalries and storylines of the established titles within the esports ecosystem".
Get started with VALORANT today
I'm sure you agree there is a tremendous amount of energy and excitement around VALORANT. It has a huge potential, and we are in no doubt it will continue to grow and meet expectations. 
We believe this is an important esport game which will help you build and develop entertaining esports offering. 
At GameScorekeeper, we can help you capitalise on its growing popularity and success through our data services. Please get in touch to discuss how we can help you get involved with the next big thing in esports.